Distribution – Schedule & Process
Audio distributions biannually and Music Video distributions annually. Take a look at the distribution schedule below for PPI members.
Audio Distribution Schedule
Quarter 1 - 2 October
Quarter 3 - 4 May
Video Distribution Schedule
Video Distributions are in May each year, for the preceding year.
Where does your money come from?
For Audio (airplay based) distributions, the Licensed Music User (bar, restaurant, shop, radio station etc.) pays PPI, this goes into the audio pot (less operation costs), then you follow 'The Distribution Process' diagram below.
Music video is based on actual video usage and income from the TV station.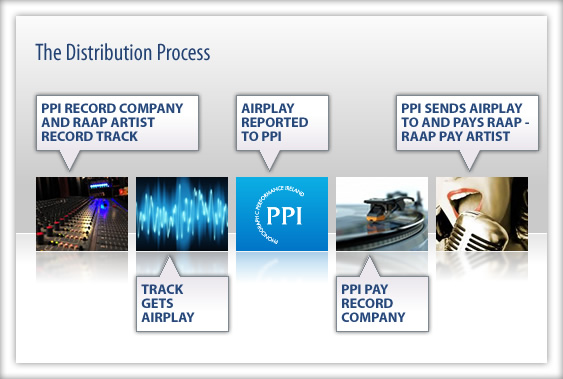 Distributions are subject to membership of PPI and ownership of the necessary rights (ownership or exclusive licensee to sound recordings, Public Performance & Broadcasting Rights in the Republic of Ireland).