ISRC Codes and Registrations
What is an ISRC?
An ISRC (International Standard Recording Code) is an international means of identification of sound-recordings and music-video.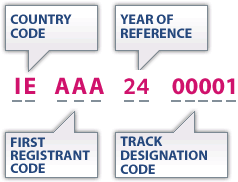 The ISRC code is unique to every record company/rights holder and can be used to identify royalty payments.
An ISRC code consists of 12 characters and separated into 4 elements:
IEAAA2200001
Note: there is no hyphens or spaces in the ISRCs
Country Code – First Registrant Code – Year of Reference – Designation Code
Country Code: represents the country of residence of the registrant, IE = Ireland
First Registrant Code: identifies the rights holder of the recording at the time the ISRC was allocated.
Year of Reference: identifies the year in which the ISRC was allocated to the recording (22 for 2022, 23 for 2023 etc.)
Track Designation Code: is assigned by the rights holder/producer and consist of 5 digits. The Numbers are assigned sequentially, ie 00001, 00002 etc. In each new calendar year this designation code should reset to 00001.
Request ISRC codes
Before applying for ISRCs please note the following:
You only need to request codes once from PPI, unless there is a different project or reason that means you now need new separate ISRCs.
If the details provided on the form matches our records i.e. Artist, Label, Company, Contact Information - we will resend you the codes that were issued previously to you. 
Register Recordings - for ISRC registrations and new membership applicant purposes only
If you are
not
currently a member of PPI or you have recently
applied to join PPI
you can complete the form below or the
Excel template
- please email it to:
isrc@ppimusic.ie
All fields are mandatory – you can only register if you have all the required details including ISRCs.
Before completing the form please refer to the PPL Repertoire Data Policy Guide which includes information about the mandatory registration information that is required: Recording Data (pages 6-9).

PPI Members can view the registration options on this page
PPI Track Registration Form - CSV
View SAMPLE PPI Track Registration Form
For more information please refer to the ISRC FAQ section, the ISRC section on the IFPI website and the latest issue of the ISRC handbook.
If you have any further questions regarding ISRC codes, please contact the ISRC Team on Tel +353 1 280 5977 or email isrc@ppimusic.ie